With a reported 12.5 Million dogs in the UK, we are a nation that clearly love our pets! And it shows, as according to Statista we brits spent a whopping 7.5 Billion on pets and pet-related products in 2020 alone! From collars, to chew toys, and endless amounts of treats, we love to spoil our little four-legged friends, but have you considered how you can keep them safe and comfortable while travelling?
Most of us will use a car with our dogs at some point, whether we are taking our pet on holiday with us, taking them to the vet, or just going for a walk on the beach. Our pet accessories are designed to keep your best friend safe and comfortable no matter the length of the journey, whilst also protecting your car from all the pesky pet hairs and dirt that go hand in hand with dog ownership.
Dog Hammock
Our universal dog hammock is a great addition to any car. It is designed to keep the rear seats and the rear doors of your car clean from dirt and pet hairs, whilst the quilted material provides comfort for your dog.
Waterproof & fire-retardant lining
Mesh front netting
Clips around the headrests
Suction cups for extra support
Access to secure a safety lead
The mesh material on the front of the universal dog hammock allows your pet to see into the front of the vehicle (perfect for anxious travellers) and allows you to keep an eye on them too! The waterproof and fire-retardant lining will protect your car from wet or muddy paws, and it features access to safely secure your dog during travel in line with The Highway Code.
Boot Bed
If your dog travels in the boot, our special boot beds are a real treat. They come in a range of sizes to provide a great fit for your boot and feature a water-resistant base, so you don't have to worry about those wet muddy paws seeping through to your carpet! Designed with your pets comfort in mind the beds are generously filled, with the cushion providing a double layer of comfort.
The high sides are effective in keeping out draughts and provide a comfortable place for your pet to rest their head – perfect for those long journeys! The waterproof and fire-retardant quilted fabric comes in a range of colour and trim options to match your car interior perfectly. We can even embroider your dogs name on the bed for that extra personal touch!
Fully Tailored Boot Liner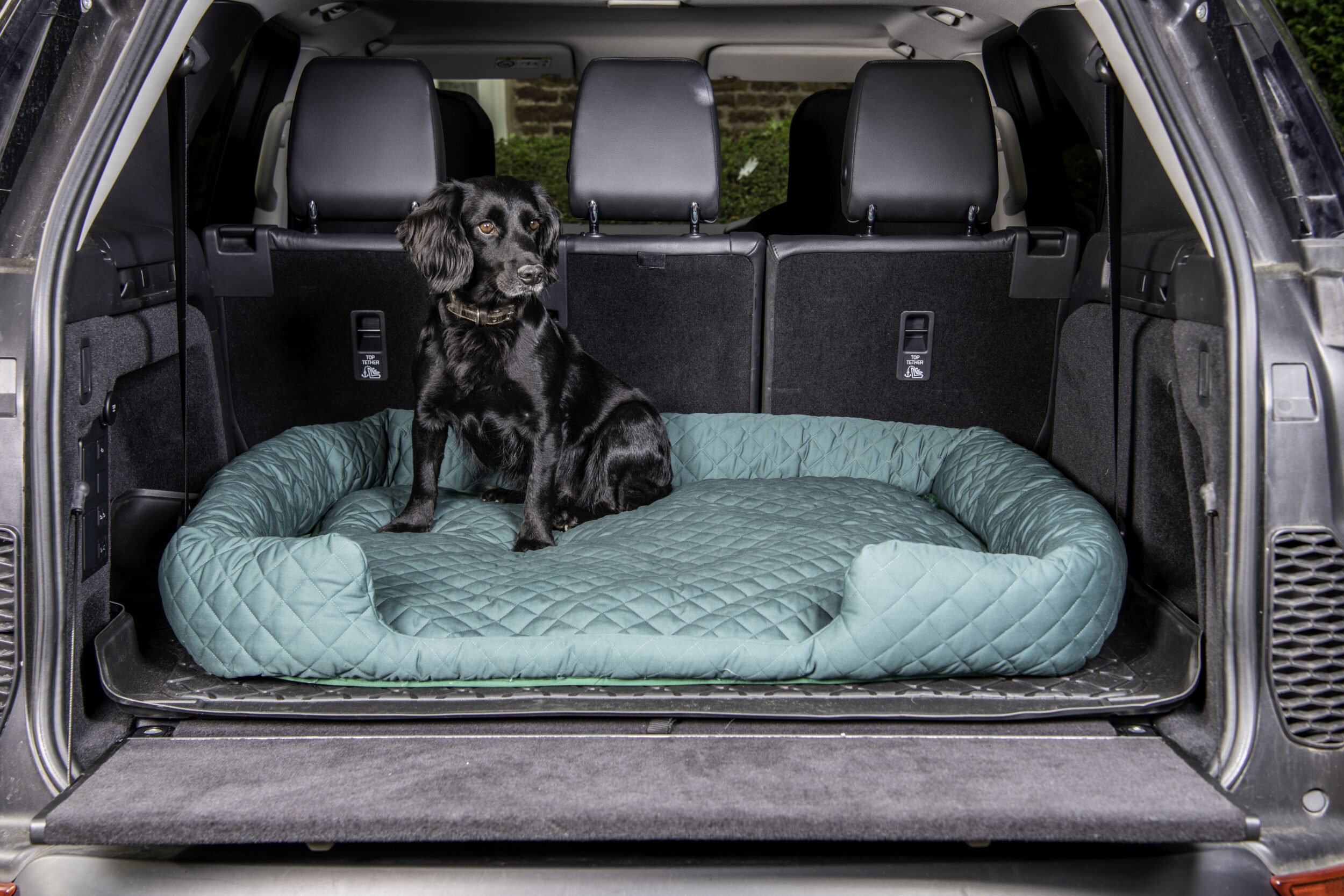 If your dog is a nightmare for getting dirty on walks and seems to love nothing more than jumping in muddy bogs, our fully tailored boot liners might just be your new best friend! Each liner is uniquely designed to each vehicle to cover the whole of the boot area, protecting it against anything you need to transport. It isn't just perfect for dog owners, but workman, fisherman and large families too!
Our boot liners come with a range of options so you can pick what will work best in your vehicle, including;
Dropback – This option allows you to fold down your rear seats whilst your boot liner is still in place, covering the rear seats when they are laid flat.
Dropback & Seat Split – The boot liner can be use as above and with one or more of the seats folded down.
Bumper Flap – very popular with dog owners, the bumper flap stops dogs from scratching the bumper as they jump in and out of the car. Removable and fixed into place with strong Velcro.
Created with our waterproof, fire-retardant quilted material they also provide a comfortable base for your dog to lay during travel. Just like our pet boot beds, they come in a range of colour and trim options so you can pick what will work best with your car interior or add your dog's name. So why not treat your pooch (and your car!) to something from Car Mats UK this year? We are sure they will find it paws-itively amazing!
Why buy from us?
Car Mats UK has a dedicated team based in Mansfield, Nottinghamshire, where all our products are designed and made by our experienced staff.  We hold the Made In Britain collective mark and are proud to do so. We pride ourselves on our customer service and you can see some of our happy customer's thoughts on Trust Pilot.
In conclusion we offer the best tailored car boot liners on the market. In addition we offer an excellent fitting product made from quality material while maintaining value for money! If you would like a fully tailored boot liner creating for your car – and your pet, which is not listed, feel free to get in touch!