Here at Car Mats UK, we have a HUGE variety of Car Mats with over one hundred style and colour combinations to choose from. With so much choice and so many options, you may be feeling a little overwhelmed!
With over 13 years' experience manufacturing Car Mats, we know a thing or two about Car Mats. Our step-by-step guide is here to guide you through our carpet qualities and personalised extras.
Step 1: Find Your Perfect Fit
Here at Car Mats UK we know how important it is to find the perfect fit. All our car mats are tailor made in Britain to fit your exact vehicle, giving you the perfect fit every time.
Simply find your make and model and we will do the rest!
Step 2: Which Car Mat Material Is Best?
Is it better to have rubber or carpet car mats?
 The two most popular types of car mats are carpet and rubber. Car mats made of rubber are easy to clean and can withstand very dirty environments. Our carpet mats are available in more custom colours and styles to match your interior.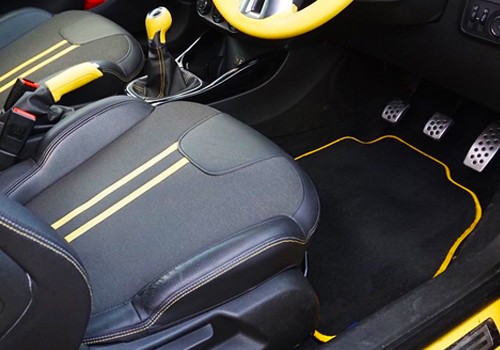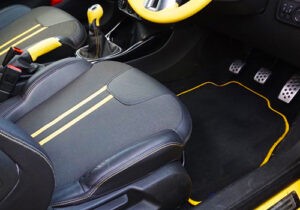 What are the Differences Between Carpet & Rubber Car Mats?
Rubber mats are more economical than carpet.
Rubber mats are more durable.
Carpet car mats can be personalised.
Carpet mats provide a higher-end look.
Carpet Car Mats
Standard: Made from 500g Polypropylene & Polyethylene Terephthalate carpet, our standard quality is perfect for customers looking for durability on a budget.
Luxury: Made from 1570g Polypropylene Dilour carpet, our luxury quality is the next step up from standard; thicker and more durable, but still kind on your wallet.
Exclusive: Made from 2100g Polypropylene Velour carpet, our Exclusive quality is our best seller. Available in 4 colour options and providing the perfect balance in quality and affordability.
Deluxe: Made from 2500g Polypropylene Velour carpet, the Deluxe quality gives the ultimate luxurious feel to your vehicle. This is our thickest carpet available; we recommend this to customers if you want to achieve a high-quality look and feel.
Rubber Car Mats
Standard Rubber:  Made from 3mm thick 100% recycled rubber, our standard rubber mats are a great option if you are looking for durability and protection. Easy to clean and available in either Penny or Diamond designs.
Heavy Duty Rubber:  Made from heavy duty 4mm thick rubber, these mats are perfect for the work-horse vehicle. Thicker and heavier than the standard rubber mats, the heavy-duty also comes in either Penny or Diamond design, so you don't have to sacrifice style for protection.
Step 3: How to Personalise Car Mats
Take your Car Mats to the next level and customise your mat colour and trim. Choose from 50 colour combinations, from red trim to graphite carpet. Why not also add further protection to your car mat by adding a heel pad! You can choose from rubber, carpet or PVC heelpads. You can even treat yourself to our specialist 'Image Printed' heel pads when selecting Luxury, Exclusive or Deluxe carpet; just upload your favourite image at the checkout stage and let us do the magic.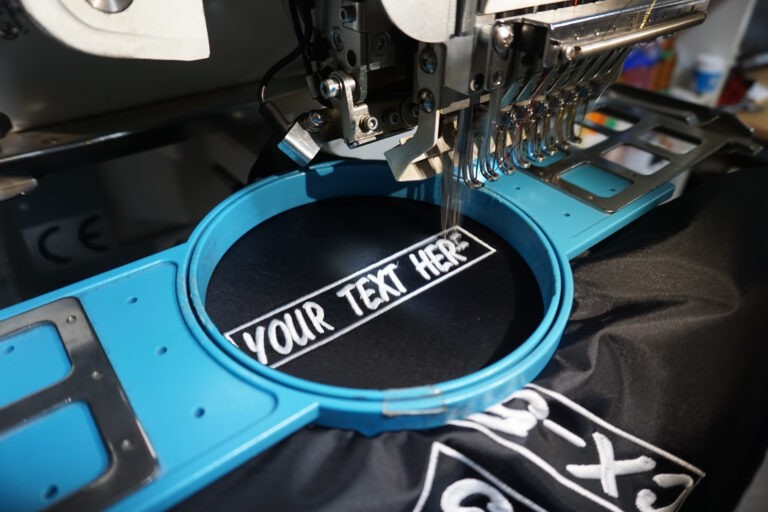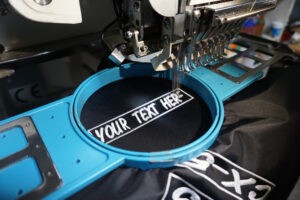 To add even more personalisation, why not add your embroidered name or logo!