We have recently joined forces with Ridgway Rentals on a custom made project to assist with their improved cab cleaning process. We were tasked with designing and manufacturing a heavy duty washable seat cover to tailor fit a range of their plant hire fleet.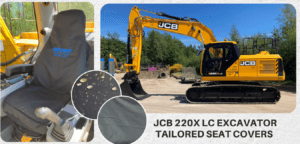 Our managing director and head of design took on the task and rolled up their sleeves to get the measurements for the seats within JCB (pictured above), Hitachi, Hydrema and Komatsu.  With each version of the seat cover, our design team were making the necessary tweaks to give them a tailored fit to every inch of the seat.  The above seat cover is fitted to the New JCB 220X LC Excavator, you can read all about that powerful machine over on Ridgway Rentals website.
Our heavy duty seat cover material is waterproof, fire retardant and machine washable allowing you to continue the clean and tidy look throughout the vehicle. As we have done for Ridgeway Rentals, we can personalise the seat covers with your logo or company name, embroidered straight onto the material giving it a professional look.
If you would like to find out more about tailored custom made seat covers please get in touch for your free quote.